For sending out email reminders the default email address being used is the standard debtor email address. This is the case when no primary contact persons may receive the email.

How to find and use the default email address on the debtor sheet
Go to

Clients via the navigation bar. Or better: use the search box on top of the page to find the debtor immediately (and bypass step 2)


Select the debtor to proceed to the debtor sheet



In the left menu select

Edit data





In the section

Contact data you can find the default debtor email address




Right below you can indicate to use email for reminders





Only when the field Yes is active for

Email for reminders, all reminders will be sent by email. If the field No is active, only PDF reminders will be generated.

Note: The option Email for reminders on the debtor Edit data-page is implemented for the whole debtor and not only for the email address above that field. When the field No is active, the debtor will never receive any emails, regardless of other contacts of the debtor (see below).
What if there are (extra) contacts with an email address?
On the same Edit data-page, at the bottom under the section Contacts, there is an option to add contacts.
Here you can manually add (or edit) other contacts that need to receive reminders. Contacts can also be added via export.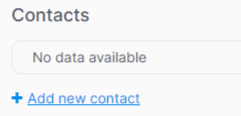 For these contacts there is the option to indicate if these contacts may receive emails. When this option is active for one or more contacts, reminders will be sent to these email addresses instead of the default debtor email address.




From the moment there is one contact with the option may receive emails active, the default debtor email address is ignored completely.

If you still want to use the default debtor email address - as well as other contacts - you should create a new contact with this email address (+option may receive emails active).




Note
:
Please remember that by default any edits on the debtor sheet are overwritten during the next import. When editing an email address or update other debtor (contact) data in iController, we advise you to implement changes directly on your accounting platform. When adding new contacts directly in iController, these are not overwritten during the import.

This default setting can be overruled however. Contact our support team to get the exact configuration details of your platform.