Click on the gear icon    in the upper right corner
Go to 'Settings'
Click on the relevant template group in the left menu ('General templates', 'Account Statement Templates' or 'Reminder templates')
Click on the pencil    on the right of the template you want to adjust.
Next, choose 'Pdf' and then 'Change margins'.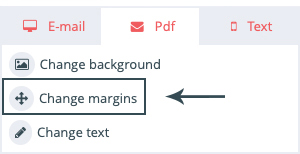 To configure the margins used in the PDF document either fill them in manually or use the drag and drop interface on the right. The red margins indicate where the text will appear and the grey window shows where the address of the recipient of the letter will be positioned.