Note: To use this function, you will need to create a personalized signature first.
Click on the gear icon    in the upper right corner
Go to 'Settings'
Click on the relevant template group in the left menu ('General templates', 'Account Statement Templates' or 'Reminder templates')
Click on the pencil    on the right of the template you want to adjust.
Choose the language where you want to add a signature.
Switch to the correct medium ('Email' or 'Pdf') and click on 'Change text'.
Add the **user-signature** (replaceable) tag.
Click on 'Save'.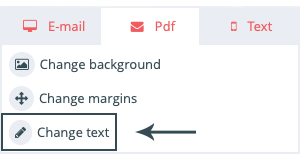 View our related article: How do I create a personalized signature?