Reminders can be send by email or a PDF can be generated to print and send by postal mail. A text message (SMS) can also be send to a debtor's cell phone number.
Debtor sheet: email for reminders
To verify whether for a certain debtor email or PDF as preferred send method is installed, go to the debtor sheet and click the 'edit data' tab. Scroll down to the field 'Email for reminders'. When the 'Yes' field is chosen, all reminders will be send by email. If 'no' is filled in, PDF reminders will be generated.


Note
: During the set up of your iController platform is determined how the 'Email for reminders' field should be filled in. For example when there is a valid email address available, it should be 'Yes', or the field is exported to iController from the accounting program. A choice has also been made if a manual change of the 'Email for reminders' should be overwritten or not during the next import.
Contact our
support team
to get the configuration details of your platform.
Recipient's email address
If the reminder send method is email, the following email address(es) is/are used:
The debtor email address when there are no primary contact persons who may receive the email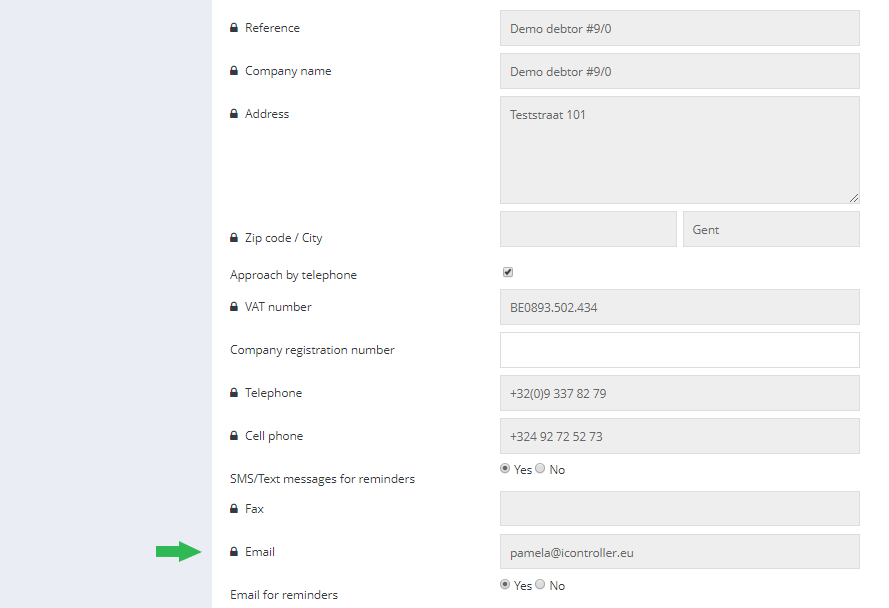 At the bottom of the 'edit data' page, it is possible to add contact persons (via export or manually). When the checkbox 'May receive e-mail' is used for one or more contacts, these e-mail addresses will be used to send the reminders to, instead of the debtor email address.


Debtor sheet: SMS/text messages for reminders
When the SMS integration is configured on your iController platform, it is possible to add a procedure step 'SMS', whereto an SMS reminder template is linked.

Make sure a cellphone number is available and the 'SMS/Text messages for reminders' 'Yes' checkbox is used in the debtor sheet 'edit data' tab.


Worksheet
In the respective worksheet list, you can see in the 'action' column the difference between a reminder to be send by email by the icon: and by PDF as follows: .
In the SMS worksheet list, the text message action will be shown as text balloon:
The recipient(s) the email will be send to are listed in the provided column.
It is possible to change the recipient email address (only for this specific reminder) by clicking on the pencil .